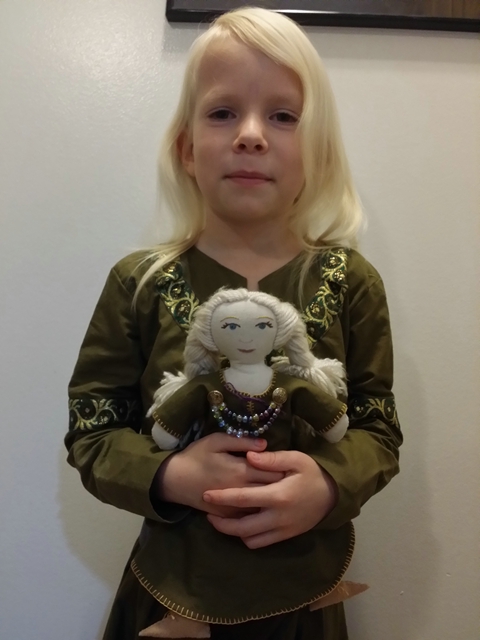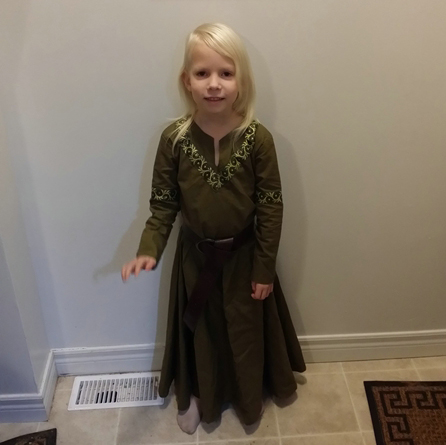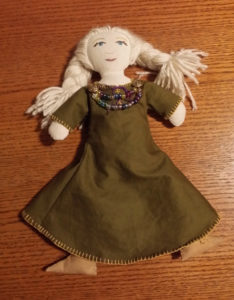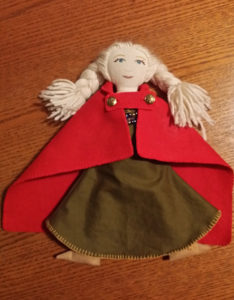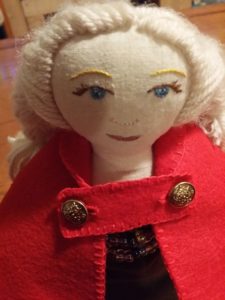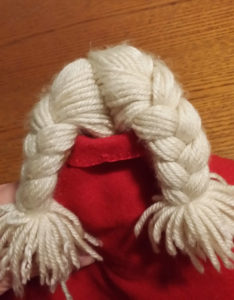 By Lady Freydis Egilsdottir
I made this dress for the Barony feast the other weekend, as she's outgrown the Norse outfit I made for her several years ago. It's a basic T-tunic dress, made of cotton, with a keyhole neckline and reasonably non-period trim, but the best I could do locally.
It's full-length, but hemmed to just touch the top of her foot, so she can run freely and dance in it without having to hike it up, although of course she does need to for going up stairs. The cuffs are cut several inches too long, with the ends at the selvedge edge, and turned under (and stitched into place along the seam); this will allow me to lengthen her sleeves as she grows fairly easily. It'll show there more than at the hem.
The belt's just a me-sized one, which makes a nice long one for her when knotted. I had also made her a doll some time ago, but never got around to making it any clothes. I had enough left-over cotton from this latest one to finally do it, although I kind of think she now needs a belt as well.
The dress itself is the same cotton, of course, with the neckline, cuffs, and hem blanket-stitched with some embroidery thread I had kicking around that went nicely with it (cuffs and hem turned). The neck is actually a little larger than I meant it to be originally because I accidentally caught the back of it as well when I started to cut the front lower, so I had to go with that. However, it makes that head easier to get through, so. It's held shut with three strands of purple embroidery thread, braided into a lace.
The "brooches" are very pretty little buttons, with multicoloured glass beads for the necklaces. The cloak is just red felt, blanket-stitched all the way around to finish it, with two more of the same buttons and a bit more felt as a clasp.
The boots are also felt, stitched up with a single thread of embroidery floss, and laced up with more of the yellow, again three strands braided. They have to be tied on fairly tightly as her heels aren't actually at ninety degrees, but it looks fine.
The doll is unbleached cotton. She's stuffed with modern polyester batting rather than cotton or wool so she'd dry out properly. Her hair is wool; I threaded it onto her head in more-or-less the shape of an upside down W so I could have the center part at the back with the two braids.