Dates:
Event closed for this year! Check back in 2020.
Event Description: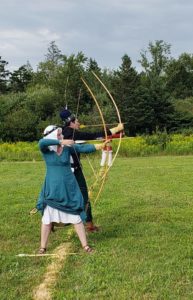 Midsummer is past, and the mountaintop fires of Lammas echo the heat of August. In Ravensdale, the populace gathers to celebrate Lammas with fires and fighting, stories and song.
In the evenings, share a well-told story around the campfire. Ghost stories are traditional for Lammas, so brace for chills. Cheer on the children as they once again sacrifice the Lammas Bull Llama!
Lammas includes heavy and rapier fighting, archery, and thrown weapons. A swimming pond is on site. Dogs are welcome, so long as they stay leashed.
Merchanting is encouraged. 

The Site: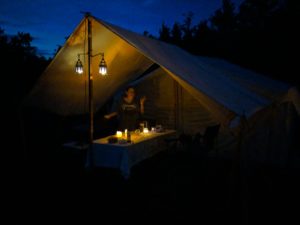 Lammas is Ravensdale's annual camping event. It takes place in the Annapolis Valley on a large private property on the North Mountain in Berwick, NS, over the Natal Day long weekend at the beginning of August. The site is about ten minutes from Highway 101 (exit 15).
Gas, ice, propane, and an ATM are available at a gas station about five minutes away. The town of Berwick is ten minutes away with grocery stores, restaurants, gas, and a liquor store. Two hospitals, Valley Regional in Kentville and Soldier's Memorial in Middleton, are each about twenty-five minutes away.
Lammas is a family-friendly, relaxed event on a fairly level site.
Please note we will not have a handicapped porta-potty available.
Smoking in designated areas only.
Campfires/braziers must conform to current area fire regulations.
Discretely wet event.
Quiet time between 1:00 am and 7:00 am